Frassati 5K 2020 Event Details:
NEW VIRTUAL Frassati 5K and Kids Fun Run
Run for Kids and Education!
Join us and help raise funds for Frassati Catholic Academy while promoting the importance of physical activity and community in White Bear Lake.
Due to the ongoing COVID-19 pandemic, Frassati Catholic Academy has decided to conduct its 2020 5K event virtually. The decision was guided by public officials, school and church leadership for the health and safety of our runners, volunteers, spectators, families and the community at large.

Virtual Event Dates: Thursday, October 8 – Sunday, October 11 (Choose the day you run!)
Packet pick-up will be open:
Wednesday, Oct. 7, 8am-4:30pm
School families will have packets sent home from school
On Friday, Oct. 9, Kids are encouraged to wear their race shirts to school on Friday! There will be a race "starting line" to kick off the fun at the doors as they exit school.
Race Options: 5K and Kids Fun Run
The USATF certified 5K race course will be marked and left open for teams to run on their own from Thursday, October 8 – Saturday, October 11. Allow time for your team to get together to run on the course, a trail or track! Please be respectful of neighborhood homes, traffic and others when running in public spaces. Have fun! Time yourself, record your run on video, take pictures, go live on Instagram, Facebook and YouTube and tag Frassati!
Event Tags: #frassati5k2020 #runforkidsandeducation #fcafaclconpride #frassaticatholicacademy #gofrassatifalsons
If you'd like your timed results posted, email your time for 3.1 miles (a true 5K is actually 3.10686, so make sure you run until at least 3.1 and then stop your watch) to runningdesigns@hotmail.com with your:
Full Name
Age
Gender
Photo of your watch or GPS with recorded time
Please DO NOT submit times done on a bike.


GET REGISTERED!
Register your family members! Recruit others to run/walk and join your team! Each 5K and Kids Fun Run package purchased under your team name counts towards your family fundraising goal! TEAMS: Are you running for a certain team or family for fundraising? List your team's bid number or families' name under the team name option. (Contact your team captain if you don't know the name.)
Each family will be a bidding option on Click Bid. Share your team number with your family, friends and sponsors to raise your $500 family fundraising goal.
REGISTRATION WILL OPEN THE WEEK OF SEPT. 14
Costs: (All proceeds directly support Frassati Catholic Academy)
$30 5K Package: Includes technical shirt, medal and bib.
$15 Kids Fun Run Package: Includes technical shirt, ribbon and bib
*Technical shirt available in youth unisex and women's cut (see size chart for options and fit).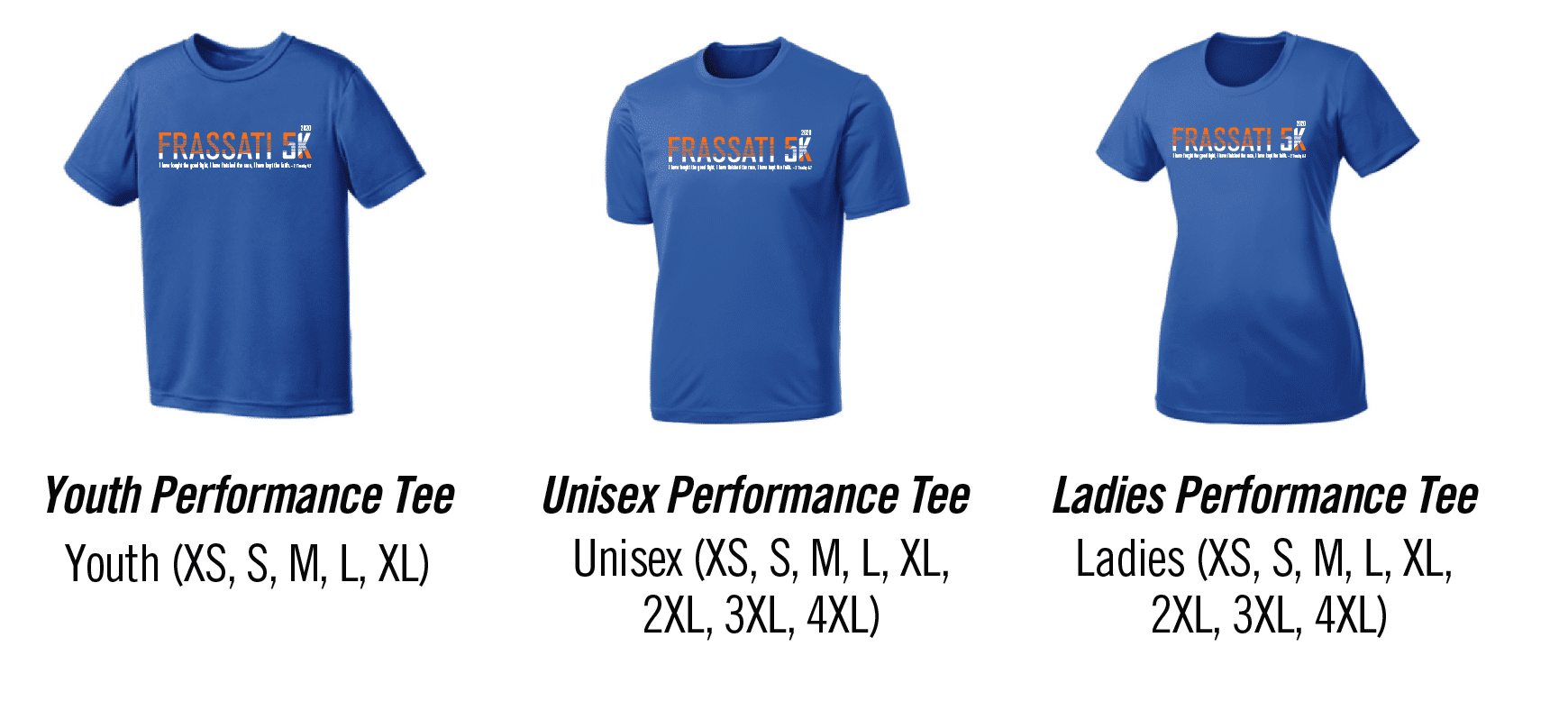 *You must be registered by October 1 to receive a technical shirt and medal for Race Week.

PRIZE DRAWINGS & RACE AWARDS!!
Prizes will be drawn the week of October 5 for registered runners. Winners will be notified by school announcements and included in Peggy's FCA email.
RACE AWARDS: We will not have official race awards this year, but will have awards for the following categories:

Best costume picture
Most creative team picture
Best race face picture
Biggest smile picture
Best jogger stroller picture
Fastest Known Time on the course pushing a jogger Male and Female
*To be entered into the Race Awards, please submit photos by Sunday, October 11 at 9:00 PM to socialmedia@frassatwbl.org with the category in the subject line and your full name. Winners will be notified by school announcements on Tuesday, October 13 and included in Peggy's FCA email.


DIRECTIONS:

Frassati Catholic Academy Address:
4690 Bald Eagle Avenue
White Bear Lake, MN 55110
CONTACT INFO:
Melissa Gacek
email: runningdesigns@hotmail.com
Directions to the Frassati Catholic Academy
Interstate 35E North to Highway 96 Exit.
East on Highway 96 to Highway 61 North.
North (left) on Highway 61 to Second Street.
West (left) on Second Street two blocks; the school is on the left.
Directions to Frassati Catholic Academy from north of White Bear Lake
Highway 61 South to Second Street
West (right) on Second Street two blocks; the school is on the left.
Click here for a Google map to Frassati Catholic Academy

DONATIONS!
Send in donations to school office for the online auction: gift certificates for restaurants or services, product or gift baskets, sports and outdoor fun equipment, cabin or property rentals, golf course passes, get creative!! All donations directly benefit Frassati Catholic Academy. *Donations will be accepted through October 1 by end of the school day.
LET THE BIDDING BEGIN!! The online auction will take place Thursday, October 8 – Sunday, October 11 on Click Bid. Bid on amazing prizes and raise money for Frassati Catholic Academy! *Bidding closes Sunday, October 11 at 9:00 PM.
 SPONSORS NEEDED!! See our sponsorship form for details, VIEW HERE. Sponsors can pay directly on Click Bid or send a check to school. Let us know if you secure the sponsor, it counts towards your family's fundraising commitment. Sponsoring is a great way to introduce your business to our wonderful school and church communities and support kids and education!